Blogger was founded by Pyra Labs, a small company in San Francisco in August of 1999. This was in the midst of the dot-com boom.
The company was founded by three friends. Blogger was funded by the friends doing web projects for big companies.
Blogger took off, in a small way, and eventually a bigger way, over a couple years. Blogger suffered through the dot-com bust.

In 2002 they had hundreds of thousands of users and Google purchased the company.

Since Blogger was launched in 1999, blogs have reshaped the web, impacted politics, shaken up journalism, and enabled millions of people to have a voice and connect with others.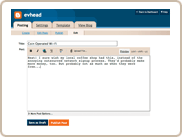 A blog gives you your own voice on the web. It's a place to collect and share things that you find interesting— whether it's your political commentary, a personal diary, or links to web sites you want to remember.
To start a Blogger blog is quite simple. A blog can help you organize your thoughts.Some Blogger blogs command influential, worldwide audiences of thousands. Professional and amateur journalists use blogs to publish breaking news, while personal journalers reveal inner thoughts.
Whatever you have to say, Blogger can help you say it.
Here are some basics according to Blogger.

Blogger Comments let anyone, anywhere, offer feedback on your posts. You can choose whether you want to allow comments on a post-by-post basis, and you can delete any comments you don't like.
Access Controls let you decide who can read and who can write to your blog. You can use a group blog with multiple authors as an excellent communication tool for small teams, families and other groups. Or as a single author, you can create a private online space for collecting news, links, and ideas, to keep to yourself or share with as many readers as you want.
Blogger Profiles let you find people and blogs that share your interests. Your Blogger Profile, where you can list your blogs, your interests, and more, lets people find you (but only if you want to be found).
Design your blog
Whether you're starting your blog or just think it's time to give your existing blog a facelift, Blogger's user-friendly editing tools help you easily design a great-looking page.
Templates — The collection of templates will get you started with an attractive site right away without you having to learn any HTML, though Blogger also allows you to edit your blog's HTML code whenever you want.
Custom colors and fonts — When you're ready to take the next step, you can further customize our templates to create a design that perfectly reflects you and your blog.
Drag-and-drop page elements — Blogger's simple drag-and-drop system lets you easily decide exactly where your posts, profiles, archives and other parts of your blog should live on the page.
Blogger Mobile lets you send photos and text straight to your blog while you're on-the-go. All you need to do is send a message to go@blogger.com from your phone. You don't even need a Blogger account. The message itself is enough to create a brand new blog and post whatever photo and text you've sent.
Later, if your want to claim your mobile blog or switch your posts to another blog, just sign in to go.blogger.com and use the claim code Blogger sent to your phone.
We support most popular mobile carriers in the US and worldwide. If Blogger Mobile is unavailable from your provider, you can still send posts to your blog using Mail-to-Blogger.