Stuff to Blog About: Blog Censorship
Guest Blogger Ryan Kubrick
Ryan writes the blogs "Kubrickspick" and Successfulblogging.
We are guest blogging for one another.


The other day I stumbled upon a comment on another blog.





A protest consisting of over 10,000 people in southwest China's Guizhou Province was quashed around 2:00 a.m. on Sunday June 29, according to the state-run media.





The unrest was sparked by the local Chinese authorities' cover up of an alleged rape and murder of a 15-year-old female student. Local residents told The Epoch Times similar incidents have happened many times in the past, but criminals were all spared because of their government background.





Angry locals swept and torched the police station, government buildings and dozens of police vehicles. The Chinese regime mobilized around 1,500 armed police from neighboring areas to quash the rioters. According to a Hong Kong media report, at least 200 people were arrested, including 30 high school students.





The report also says at least 3 people died and 150 injured in the clash.





China's state-run media classified the incident as "severe criminal offense," a challenge to "authorities of law."



I was truly amazed as it was actually the 4th of July in the USA which is a celebration of all things including the right to FREE SPEECH. I followed the link to the
blog
to read more. It is easy to be ignorant of world wide suffering while you are enjoying your freedoms. This blogger, a brave individual, was lucky to be getting his word out. He was not censored or imprisoned.
The big news ala CNN this morning;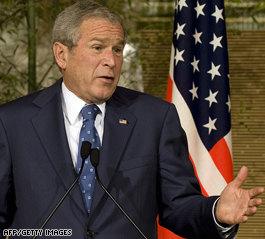 Bush: Olympic boycott would insult Chinese
President Bush has defended his decision to attend next month's Olympics opening ceremony in Beijing, saying that to do otherwise "would be an affront to the Chinese people.
FYI-
Trade with China : 2008
NOTE: All figures are in millions of U.S. dollars.
| Month | Exports | Imports | Balance |
| --- | --- | --- | --- |
| January 2008 | 5,854.9 | 26,167.7 | -20,312.8 |
| February 2008 | 5,773.9 | 24,128.6 | -18,354.7 |
| March 2008 | 6,354.1 | 22,432.0 | -16,077.9 |
| April 2008 | 5,680.6 | 25,919.3 | -20,238.6 |
| TOTAL | 23,663.5 | 98,647.5 | -74,984.0 |
'TOTAL' may not add due to rounding.
Table reflects only those months for which there was trade.
CONTACT: Data Dissemination Branch, U.S. Census Bureau, (301) 763-2311
SOURCE: U.S. Census Bureau, Foreign Trade Division, Data Dissemination Branch, Washington, D.C. 20233
There is a lot of information out there to educate yourself with.

Greatfirewallofchina It is estimated that some

30,000 Chinese civil servants are monitoring Internet traffic and blocking content that is deemed undesirable.

Typing in sensitive keywords such as 'democracy', 'Falun Gong' or 'porno' in a search engine results in an error message. Websites of a sensitive nature are being blocked. Internet service providers also (self)censor, as do individuals: many people do not express their real thoughts because they know these will be censored anywa According to state media, by the

end of 2006 there were 20.8 million bloggers in China. Blogging, which implies venting your own opinions, has become immensely popular in China.

In order to control the phenomenon the government wants blog users to register under their real name. A resourceful Chinese individual created this loophole: www.adoptablog.org. Adopt a Chinese blog, and help keep these bloggers online - anonymously.

I urge you to click on the adoptablog link to see censoring in action.

HRW
China's system of internet censorship and surveillance is the

most advanced in the world. Filtering, blocking, and monitoring technologies are built into all layers of China's internet infrastructure. Tens of thousands of police remotely monitor internet use around the clock.

The elaborate system of censorship is aided by extensive corporate and private sector cooperation—including by some of the world's major international technology and internet companies such as Google, Yahoo, and Microsoft.

Writers, editors, bloggers, webmasters, writers, and journalists risk punishments ranging from immediate dismissal to prosecution and lengthy jail terms for sending news outside China

or posting articles critical of the political system. For example, Zhang Jianhong, former editor-in-chief of the Aegean Sea website, was sentenced to six years' imprisonment on March 19 for "inciting subversion."
According to
Reporters without Borders,
"A score of bloggers and online journalists have been thrown in jail in Iran since Sept. 2004 and one of them, Mojtaba Saminejad, has been there since Feb. 2005 for posting material deemed offensive to Islam. In Libya, former bookseller Abdel Razak al-Mansouri was sentenced to 18 months in prison for making fun of President Mohammar Khaddafi online.
You have to wonder how many American bloggers would be jailed if making fun of President Bush were to be deemed 'offensive'.


I agree. China is a Hugely populated country. For one person to fight blogger's restrictions would be like an ant going up against an elephant. What can you do?
It's up to you.
Check out the links below. I got them from one of the 'banned' blogs.

---
www.opennetinitiative.org
THE organization that deals with internet censorship i.e. internet filtering worldwide.

http://irrepressible.info
An initiative by Amnesty to sign a pledge on internet freedom.

www.globalvoicesonline.org
Newsgathering not through regular media, but through bloggers, photo
sharing sites, internet worldwide.

http://www.rsf.org
An organisation that defends press freedom worldwide and aims to inform those parts of the world where there is no full freedom of the press.
Ryan