Sited and Blogged
is bringing fun into the world of bloggers this month with what they call
"March Madness".
They offereing a variety of online bloggy activities for their followers.
Daily Memes.
Daily Memes are a given topic for bloggers to follow on their own site.
Sunday- Weekend Wrap-up
Monday- Goals for the Week
Tuesday- Check out my stuff
Wednesday- Comment Day
Thursday- Something from my past
Friday- Picture Day
Saturday- I like your site.
Sited and Blogged has made cute images and Mr. Linky links for users to use for each day.
Contest Carnival listing.
Hosting a contest or some kind of giveaway?
You are invited to list is with Sited and Blogged.
Also, this is a great starting point for people looking to participate in a contest or giveaway.
And, they are introducing Comment Response Month.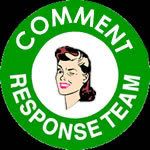 All of those comments that they generated with Blog Luv Comment month need to be addressed and that is the goal for the month.
I will be joining a handful of other bloggers in giving away adverting space and entrecard credits. Stay tuned for the details....